Interview with Oforia and new album launch – Read more…
Interview credit: Trancentral
Oforia is the main (though really only one of MANY) project of Ofer Dikovski, one of the most important producers in Goa and Psytrance history, through project like Indoor, Tandu, Pigs In Space, Solaris, B-Wicked and of course Oforia. Oforia has been away from producing psytrance for a few years and his comeback is causing quite an excitement here @  Trancentral headquarters. So we made this interview and it is full of insights and interesting stories. And there's music too, of course.
Listen to the new album in full while you read. Press play

Q: Where have you been?
A: Well, I guess I had to recharge my psychedelic cells and apparently it took me quite a long time, almost 5 years since my closing release for that era which came out in 2010 as a 4 tracks EP titled 'Exit'. The years 2010 – 2013 were pretty much "grey" on the creation side. Apart of performing on a monthly basis with my all times stuff, mainly in Israel, I was kind of away from the scene and from creating its music.
I had a Sisyphean episode in 2011 with Tech-House and my project "Ofer Di". Tracks, releases, tons of remixes but nothing really exciting so I moved toward music services such as producing commercials & post production alongside a completely different work as a Web SEO strategist.
During 2014, as a result of the rising demand for retro music, I was performing a lot together with Avi Algranati (Space Cat) as Indoor. At some point we've decided to get back in the studio and revive some old Indoor classics by editing them with additional modern parts and remastering. We wanted to make the old Indoor stuff more suitable for playing alongside modern music.
At the end of those sessions, we've produced a new track, the first one in so many years. At the same time, it all came back to me and in no time, I found myself in the studio, producing new trance music and from a very exciting and fresh approach.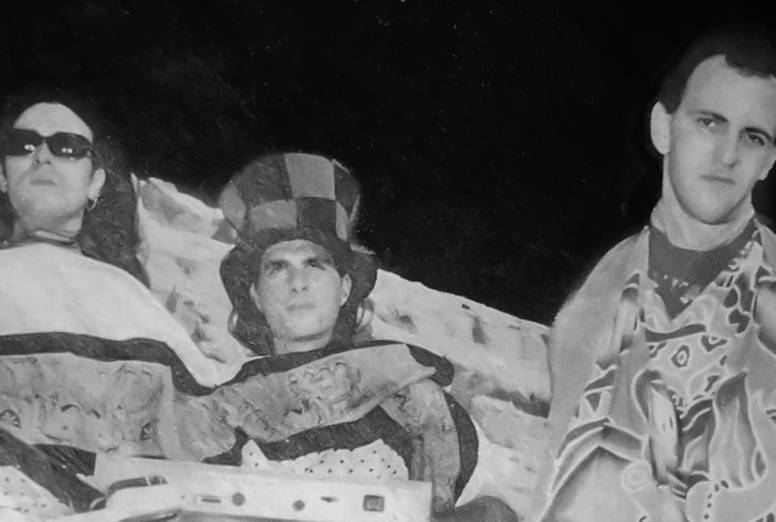 Indoor, 1995. From left to right: Ofer Dikovski, Avi Algranati, Marko Goren.
Q: In the last year you have been definitely making a comeback, what got you back and how did you find yourself in the new trance world of the second decade of the 21st century?
A: For me and I believe that for many others, the thing with Psy-Trance and Goa-Trance, my favorites genres, is that it only hits you once, at the beginning, and from that point on it seems like it doesn't leave you, like a stubborn virus. It sure is a smart "infection" and it will hibernate once in awhile just so you miss it.
During the years I was away from it, I did pay attention to what's going on in the scene in terms of music. But I believe that when it comes to music, it's all a matter of taste, there are no true rules which you have to pay attention to, not as a musician and not as a listener.
My preferred atmosphere is the one I've grown with – Mid 90's. For me it's the richest era of Trance by all means and I felt that its soundtrack and presence were highly missed by the global scene. It was obvious just by looking at the increasing demand for retro music at the beginning of the current decade and of course the absence of new music in that style. I look at it from a very simple viewpoint – when people start to go backwards in time in search of music, it's not only because that music was so good but also because there is a lack of HQ content in the presence.
Those thoughts together with remaking Indoor drove me back to the studio to challenge myself in creating the supposable sequel, yet updated and in a direct relation to the mid 90's music.
When tracks started to come out of my oven, I got a surprise call from a good old friend which I didn't speak with for quite a long time before, DJ Dede who came out with a suggestion to reopen the mythological label MDMA. He asked me to join forces with him as the label's mentor. I was very positive about it and felt that it's the right thing to do. From that point on things were happening fast and suddenly I found myself producing a lot of music as Oforia, Indoor, Phreaky and it turned out really well by all means. Today, one year since we revived the label and some classic projects, MDMA has become a showroom for my music and the music I'm involved with. Together with Dede, we were able to build a special label with a respectful history and brand it as a boutique label, offering music and content that suits our preferences within the trance scene.
Q: We celebrate a new Oforia album, give us 3 major differences in the process of writing and releasing the new album and your first album.
A: That will be mostly funny… it's so completely different… During 1997, while making the art cover of my first album via Dragonfly as Oforia – Delirious, I had to travel to London and meet the super talented Mark Neal who designed most of Dragonfly artist's sleeves. I went so far to meet him not because I had to see the artist face to face, just because there was no other way to do it, no emails, no Internet. Because the visual side of an album is so crucial to me, I felt obligated to watch some of the live process of making it. I have to admit that most of it, which is nicely varied, were ideas that came out from Mark, and this is why it's a bit more graphic and textured in compare to my other album's sleeves. As for my new album "Read More" – I did it all by myself. It was important for me to do it as a part of my creation moto for the whole thing – do it yourself! I really wanted to make a total art statement and go for the visual side also.
The music for my first album "Delirious" was made almost totally with outboard equipment, no plugins and virtual environments were available at that time. The workflow was frustrating but yet, it gave some magical space which allowed you to go further with a certain sound and its notes and just put yourself into it for hours, more on the musical side of it. I remember at that time that Cubase, which was my software, was introduced for the first time with audio tracks in it. It was a big innovation back then and luckily I had the chance to use it during the making of that album.
With my new album, technically, the story of producing it is so ahead and imaginary when comparing it with the above that it's almost ridiculous. Almost 20 years difference and nowadays you can do pretty much everything you want. The music, on the other hand, was made with a careful look back to the old times: Harmony, notes, picking the right scale and a lot of pure musical angles were put in the front because I truly believe that this is what makes the biggest difference from the modern stuff.
A good track should consist of the right amount of elements and the understanding where to put them in the right time. As simple as it sounds, it's very hard to achieve and when it's too hard you start to shove unnecessary stuff inside which takes the magic out instantly. I try to "walk" between those lines and make it as musical as I can but still with electrifying electronic sounds and as danceable as possible.
The last major difference I can mention is the personal background. Obviously there is a vast disparity between a young man, 24 years old, with no real responsibilities in life, no red lines and a 44 years old man, married with children. Add to that the "Long and winding road" I've walked through since then and it all leads to a more advised and experienced point of view with the music, less competitive. In simple words – making the music is the main highlight for me here, all the rest are just bonuses which I do not intend to use automatically.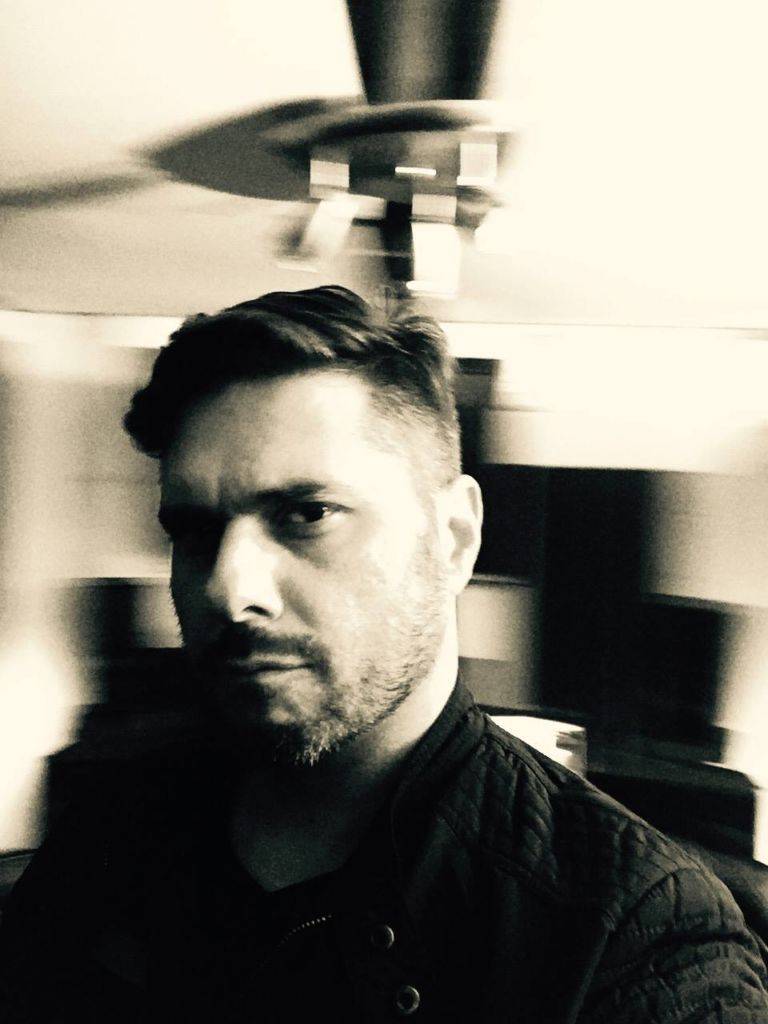 In the studio. 2016.

Q: Tell us a bit about the new album. Why "Read More…"?
A: If someone will ask me, what is the most missed thing in Psy/Goa-Trance music? My definite answer will be – A story. This is the most frequent word and desired concept I've heard during the years in this context. It's a bit of a cliché but apparently clichés are always true – we used to call a piece of trance music A Track, not only because it's the right term in English but also because back then, when you heard or danced to a Goa trance track, subjectively, you felt like you're in a kind of a journey, a trek, if you like. It fits perfect with the music genre title – Trance – and back then was highly supported by the structure and the musical parts of it, making it kind of a story or a tale, told by electrifying sounds & elements.
I wanted to take this dimension and bring it back to life in my music and eventually it turned out as a concept, a bit abstracted, but with enough space and depth to hold any interpretation in that context.
Each of the 8 tracks in the album carries a minimum length of 10 min and tells a musical story with a wide spectrum of sonic elements and colors. Also, I kept on relating to my repertoire to let its atmosphere inspire me as much as possible for collecting as much as "Oforia" sound in it and wrap it with a modern shield. I took all those "story" motives and with a little word game relating to the common internet term, I've titled the whole thing as "Read More…" and it's really what it is – A piece of art which tells the listener all about my musical existence.
Q: I saw quite a few videos of you playing in underground parties in the last year or so – how does it feel? Aren't you "too old for this shit"? What is the difference between these and the underground parties of old?
A: Generally it sums up to the same value – a gathering of people who dance to music being played by a DJ or an artist.
The differences are of course the people who make it and the quality of the productions which can enjoy the benefit of nowadays modern technology like better sound, better communication in wild nature when building a party site or when attempting to reach the party location, things like that. But the peak of it is pretty much the same and ironically, with much of the same veteran characters who made a comeback recently.
There were times when I felt too tired of it, mainly with potential shut downs scenarios, but since I've made my current comeback, I'm just excited to perform in those gigs and honestly, I had some unbelievable parties during the last year, which I've never thought i'll experience again. When it's served well it creates an unbeatable magic and above all, I truly believe that a nature party is the most ultimate and purest way to experience this music. It's just the proper way to do it, no wonder it came out from Goa… all those nature parties are basically a homage for the Goa parties, exactly the same concept.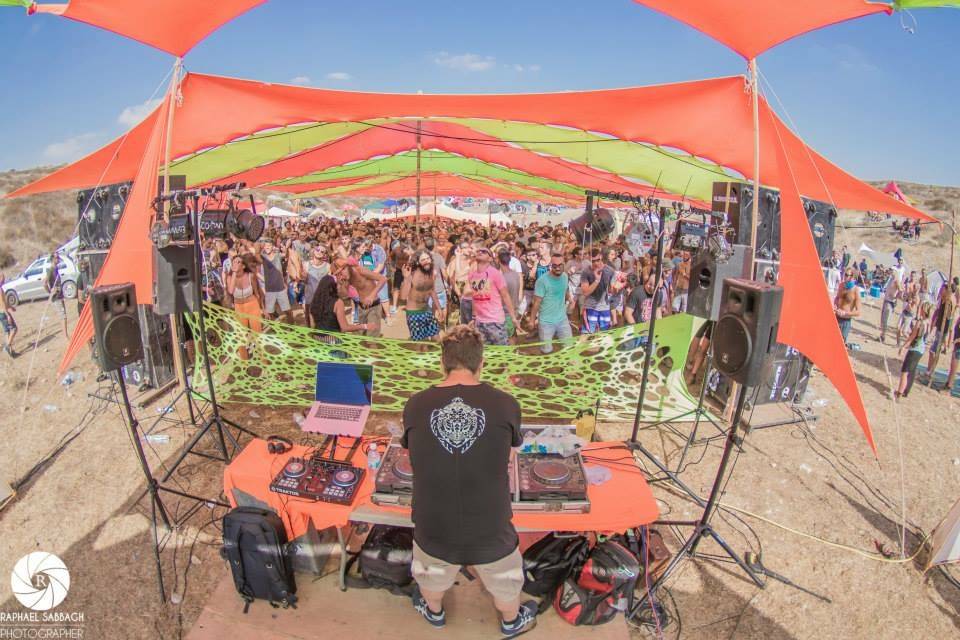 Oforia live. 2015.
Q: If I was asked for one word that I would use to differentiate the Oforia sound from all others I would say 'metallic'. Why there's a strong metallic quality to your sound? What for you defines the Oforia sound?
A: I'm attracted to the thrilling tension I'm getting out of a playback which holds a metallic quality in it. Hard to really explain why, but it's my ultimate kick and when I'm getting there while producing, I'm just marking a virtual "V" which tells me it's nailed for the next step. It is possible to explain part of it by defining and averaging the character of the sounds I tend to use in my music. Obviously, You have to build a certain chain to get it. I do my self-analysis and choices more on the thinking side of it and for me, the most important thing for an artist to get a recognition is a sound mark, his own sound, the understanding of it is so valuable because when you realize it, and better as early as you can, you'll be free from a lot of pointless weight.
I tend to define my output as a "musical living space". In the essence of giving a full respect and attention to the musical spectrum, for me it's the heart of it and can hold a lot of emotion stimulation although this genre is sometimes treated as functional music. If I'll divide the sonic picture into two main pieces, music and effects, than it's kind of a "masters and servants" relationship between them and it is my most desired way to look at it when I'm creating music.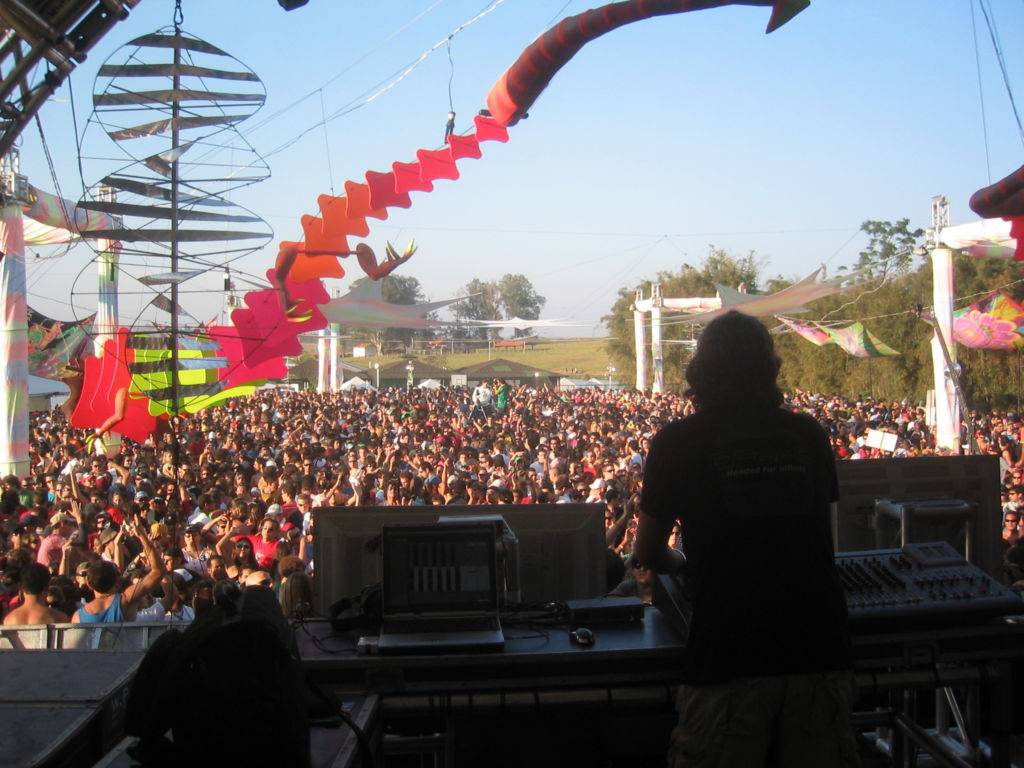 Oforia live. 2005.
Q: You have enough perspective – what is "Trance" for you?
A: For me Trance is a culture. A very special culture that combines several foundations and exists for its consumers as a parallel universe, a mental musical network connected to the day by day reality as an extension, and will always be friendly and welcoming by its unique bridges such as the music of course, the gathering events, the unique spirit and the special bonding with nature and space. An absence of one of the above elements will take down the unity and magic from this culture.
Go on a musical journey through Ofer's musical career with this playlist he compiled for us:

Q: Funniest story in your long musical and DJing career.
A: So many… one that I recall in particular is a gig in London back in 1995 as Indoor.
We've planned a pretentious live set with me playing live guitar, something that was absolutely rare back then, Avi was in charge of the keyboards and synths and Marko was dealing with all of the live channels which were supposed to be synced with light versions of the tracks. The biggest mistake was to use the kick live from a drum machine.
Moment of truth – it all went really bad after 2 tracks and the sync was gone, totally gone, leaving us on stage in front of 1500 people so miserable and perplexed that in some point Avi hammered a live kick from the keyboard on top of couple of tracks. I was trying to camouflage the cacophony by making loud noisy bends with my guitar but eventually it was pretty much a disaster and retrospectively, a funny one.
Q: Future Oforia?
A: In the upcoming months I'm going to dedicate my efforts mainly for performing live with the new album and for studio collaborations, meaning, producing tracks with other artists which I find fun to connect with, remixes for other artist's music and special tracks which I'm working on at the background for a while.
Also in the background, I'm starting to develop a Sub-Oforia project that will deliver the more downtempo and chilled side of me, which I love to deal with. I'm planning to include live instruments, lyrics, vocals and a lot of unique collaborations, but totally related to my Trance music and Oforia's style. A lot of stuff and worth waiting for.